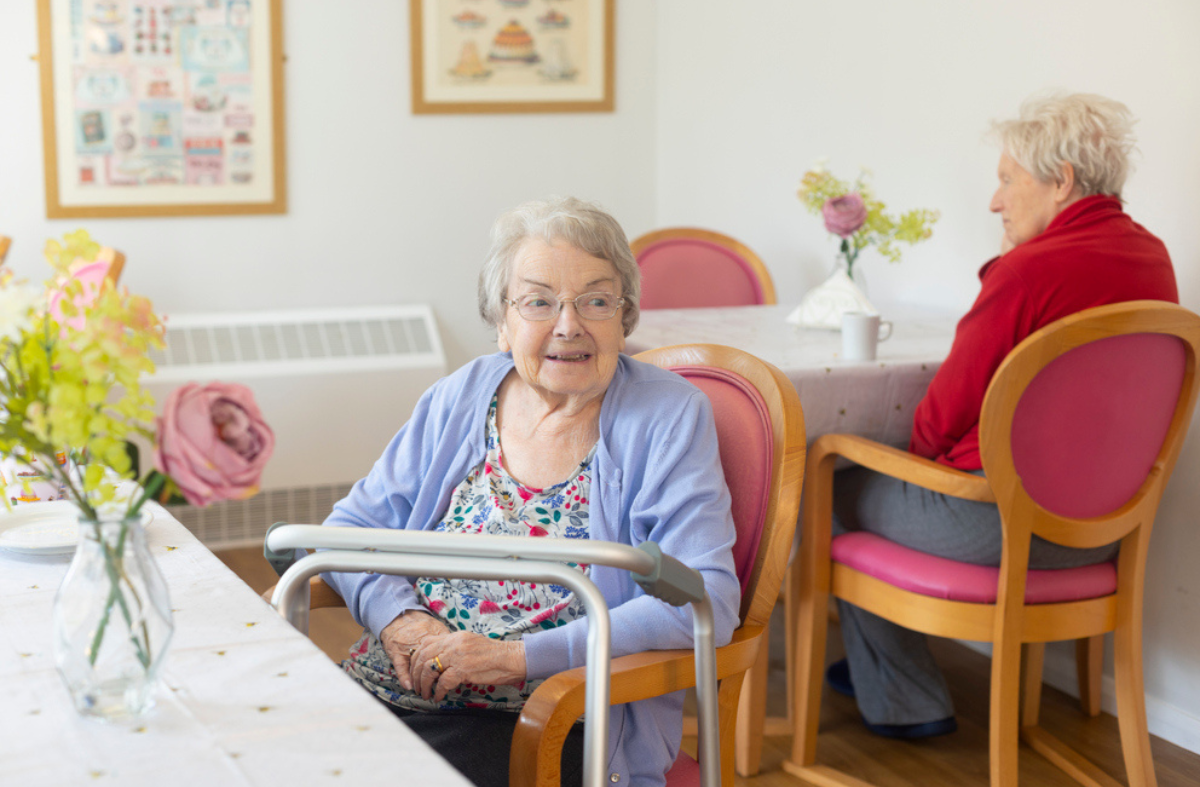 Preparing to move a parent or loved one into care can be an overwhelming decision to make, particularly if you aren't sure what to expect from living in a care home. To help you feel more comfortable and understand what life in a Borough Care home looks like, we've put together this resource to give you an insight into what you can expect when moving into care. In this article, we'll highlight the key benefits of moving into care, debunk the misconceptions about living in a care home, and help prepare you on what to expect.
Care home myths, debunked
Care homes have too often been branded as dull, and even depressing, places to live in or visit. However, they're anything but that! At Borough Care, our mission is to create environments where our residents can live Life in Colour. There's certainly no place for a grey, dull existence across our homes in Stockport and Staffordshire. Let's take a look at some of the most common misconceptions about moving into care and explore why they aren't necessarily true in today's much more modern, specialist care homes. 
"Care home organisations are old-fashioned"
When it comes to caring, the priority is always ensuring that your loved ones receive the care they need. Above everything else, high-quality care always comes first. Whilst some homes may still have a few old-fashioned techniques in place, today, many care homes have adopted innovative methods and approaches to the way they care. 
A great example of a modern-day approach to care that many homes have taken includes the incorporation of technology in day-to-day care. For example, we use online systems to track each resident's daily medicine and log it on our online portal. This helps ensure that every resident receives the medication they need and that it's always recorded. Technology isn't the only thing that care home organisations have used to modernise their care, however. Many care home providers have partnered with vegetarian and vegan organisations to offer a varied menu that caters for all. This helps create a more inclusive environment, representative of the UK's growing population of vegetarians and vegans. 
For more information about how innovation has improved care across many organisations in the UK, visit our helpful resources.
"Residents don't have much privacy" 
Another common misconception about living in a care home is that residents often don't have much privacy. Whilst staff are always available to support residents and ensure they receive the best care possible, this doesn't mean that residents will never have their own space. At each of our care homes, residents have their own rooms where they can relax and enjoy time alone when they need it. 
It's important to remember that our staff are here to support residents to live full lives in comfort, and that will look different for every resident. Whether they're looking to chill out with a good book, catch up on their latest TV series or listen to their favourite music, residents are always able to do just that in their own company. So you can relax knowing that our team will be there to assist residents with every aspect of their care, whilst giving them the space they need as well.  
"Residents are often lonely"
Just as residents need their alone time, they also need quality time with staff, other residents and their family too. However, a worry that a lot of family members have is whether their loved ones will feel lonely in care. Moving into a care home, and away from friends and family, can be challenging for many people. However, many care homes will have activities and programmes in place to ensure that your loved ones can connect with staff and residents, and build new relationships in the home. 
As part of our day-to-day caring, our Care Assistants will spend quality time with our residents one-on-one. We find that one-on-one time between staff members and residents is a great way to build trust in their relationship. This could be anything from having a cup of tea and a chat to doing some gardening together. It's up to our residents to decide what they'd like to do, and up to us to make it happen! We also put together a plan of activities and events at each of our homes so residents always have things to look forward to. In our homes, it's up to our Activity & Lifestyle Facilitors (ALFs) to plan the activities calendar and organise plenty of fun trips for the calendar year. Explore some of our favourite events and activities on our news page.
"Staff aren't very caring towards residents"  
It's often thought that staff are uncaring towards people in care. However, our staff are some of the most dedicated and passionate people when it comes to their work. Many people choose to work in the care sector because they care deeply about making a real difference in the lives of others. 
"The best part of my job is interacting with the residents and building relationships with them. I love spending time with the residents, they all have unique personalities! I feel that through my job, I'm making a positive difference in people's lives – it's very rewarding." – Laura Nelson, ALF at Lisburne Court
Benefits of living in a care home
We've debunked some of the biggest misconceptions about living in a care home, now it's time to take a look at the more significant benefits that come with moving into care. From the quality of care available to the dining experience on offer, there are plenty of positives to life in care. Join us in exploring some of the key benefits of living in a Borough Care home. 
Specialist care and support 
Living in a care home enables both you and your loved one to benefit from full care support from trained specialists. It can be emotionally and physically exhausting to care for a loved one who needs full-time care, especially if you're trying to balance their care with work and your personal life. By moving your parent or loved one into a Borough Care home, you can relax knowing they're getting the best possible care for them. 
The type of care home that would be best for you and your loved one will depend on their individual care needs. At Borough Care, for example, we specialise in dementia-friendly care solutions tailored to each resident. To learn more about how we care, visit the "our care" page of our website.
Nutritious food and drink
Moving into full-time care means that every aspect of your loved one's day-to-day life is planned for, right down to what they have for breakfast, lunch and dinner! We work closely with our Head of Catering and Hospitality, Tony, and meal provider Apetito to plan nutritious meals for our residents. We also work with V for Life, a UK charity that works on behalf of older vegans and vegetarians, to ensure that all of our vegan and vegetarian residents are represented and catered for in our menu.
Activities and events
A significant part of life as a resident in care is getting involved in fun activities and events at your care home. It's important that residents keep active and stimulate their minds every day, which is why so many care home providers have activity and events calendars in place for each of their care homes. At Borough Care, our ALFs are in charge of our events calendars. They always go all out to ensure that our residents have something fun to do, whether it's painting, singing or going on trips out.
Some of our favourite activities recently have been Alpaca visits at Shoemaker Place, wintry walks at Bryn Haven, and pizza-making at Reinbek. Catch up on the latest news and activities from our homes on our "news" page. 
New friendships 
One of the wonderful things to come out of life in care is the new-found friendships that blossom between residents and staff. We love sharing stories of friendship across our homes and seeing new ones develop. A concern that many people have about care is that their loved ones are moving away from familiar places and people, but there are always new friendships to make in care. Take a look at some of the friendships that have formed at Borough Care in our news section. 
Explore our dementia-friendly care homes 
We hope we've managed to give you a greater insight into what life in a Borough Care home is truly like, whilst debunking some of the biggest myths about care along the way. Now, the next step is to explore what care home options are out there. To explore our full range of dementia-friendly care homes, across Stockport and Staffordshire, head to the "our homes" page of our website. There, you can find detailed information about each of our 12 homes. 
To take a look at some of our other "Life in Colour" moments from our homes be sure to follow us on Twitter, Facebook, Instagram and LinkedIn.