Everything you need to know when moving a parent into a care home
When moving a parent or loved one into a care home, it's completely normal to feel lost, worried and overwhelmed as you start the process. We know that there's a lot to consider, and we understand that it can be difficult to gather your thoughts together as you begin the search. To help make the process a lot less daunting and easier to follow, we've put together a checklist of some of the questions to ask and things to keep in mind as you search for the perfect care home for your loved one. From the facilities at the home to the necessities you need to pack, we've collated it all to make the difficult process feel more manageable.
Finding the ideal care home for your loved one
Finding the ideal care home for your loved one
The most important part of your care home search is finding one that will best suit the needs of your loved ones. This could be anything from the type of rooms that the home offers to the activities they have planned for residents. Three key areas to consider are; the facilities available, what the staff are like and how you can visit the home.
The facilities at your care home
Every care home resident has their own specific needs, and every care home will offer and specialise in something different. This is why the facilities at your care home are so significant when making your decision. For example, at Borough Care, we specialise in providing quality, dementia-friendly care to all residents. Each care home is split into 'households', with their own bedrooms, lounge areas and dining rooms, to help those with dementia recognise their spaces and move freely around them.
Here are some questions to ask about the facilities in your dementia-friendly care home:
1. What is accessibility like?
2. What entertainment and activities are available?
3. Will residents have to share a bathroom, or will they have their own?
4. Is there outdoor space for residents to spend time in?
5. What kind of meals are served? Do you cater to those with special dietary requirements?
6. Are there any local shops in the area?
7. What is included in the room? e.g. furniture, televisions, computers, radios, books etc.
8. Is there a security system in place for each room?
9. Are there different types of rooms to choose from?
10. What are the communal spaces like?
The team at your care home
The staff makes a home what it is, and they'll be the people caring for your loved one every day. This is why it's essential that you ensure that the staff feel welcoming, professional and capable of delivering quality care. When visiting a care home, there are some key questions to ask yourself about the staff:
1. Does the team feel welcoming and friendly?
2. How organised does the home seem? Does it feel chaotic or calm?
3. Are the staff happy to answer any questions?
4. Do you feel comfortable around the team?
5. Can you see any staff members having one-on-one time with residents?
Some questions to ask the staff themselves could be:
1. What activities do you have planned for residents this week?
2. How often do you spend time with residents one-on-one?
3. Do specific staff members care for specific residents?
4. Are residents able to have an input in who cares for them?
5. Are there any team members who have had specific dementia training?
We're proud to have such a brilliant group of professional, empathetic and kind people in our teams across all of our Borough Care homes. If you have a question about our team, get in touch at enquiries@boroughcare.org.uk.
Visiting your loved one in care
Location, transport connections, parking and visiting hours are all important things to consider when putting a parent into care. At Borough Care, we know how important visits from families are for our residents, which is why we encourage them whenever we can.
To make visits as easy as possible, all of our homes across Stockport and Staffordshire have on-site parking and good transport connections across the wider area. But, getting to the home itself is only a part of visiting. As well as transport connections, some other things to consider are:
1. What are the visiting hours at the home?
2. How many people can visit at a time?
3. Can visitors stay overnight or not?
4. Is there a dedicated space for visitors to spend time with residents?
5. Can visitors take residents out for a day trip?
To find out more about our visiting policies, get in touch with the Care Manager at our homes.
What should you pack when moving into care?
At Borough Care, ensuring that our residents feel comfortable and safe is our top priority. Whilst we will provide essentials to make sure that your loved ones can move into our homes with ease, we know that there will be individual items and belongings that you will want to provide for them as well – products that make them feel the most themselves. Here are the specific things that you will want to consider:
Clothing to pack for your loved ones as they move into care
Everyone has their own thoughts and opinions on the types of clothes that make them feel confident and comfortable. When moving into care, two weeks' worth of clothing is recommended, including nightwear, daywear and maybe something dressed up for exciting events at the homes too.
Here is a list of the clothing that you might want to prepare:
– Outerwear
– Jumpers/tops/t-shirts
– Trousers/skirts/dresses
– Formalwear for parties and events
– Pyjamas/dressing gown/slippers
– Socks/tights/underwear
– Comfortable shoes
– Activewear
– Accessories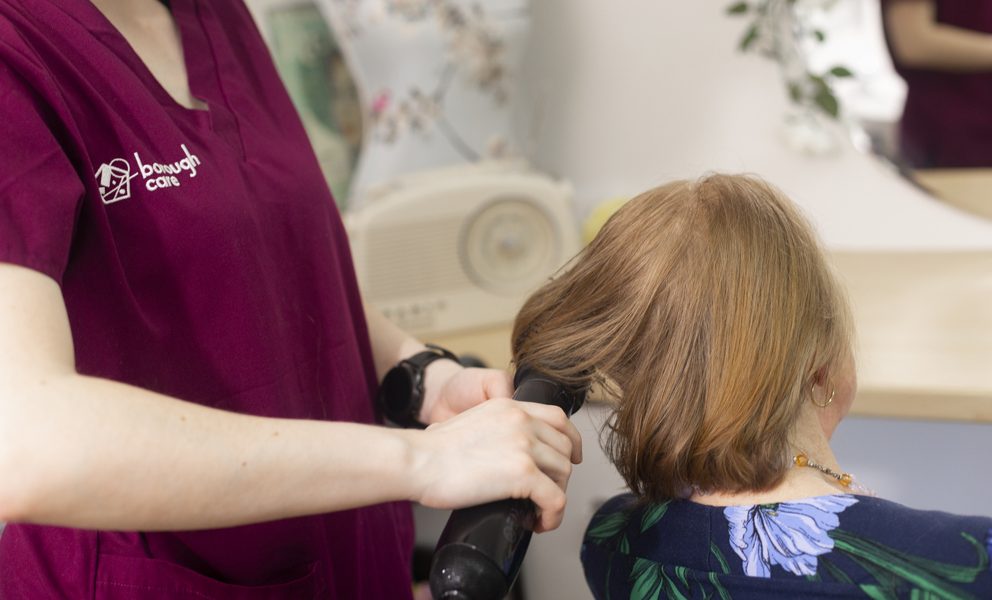 Personal care products to bring into care
Often, residents will have specific personal care and hygiene products that they prefer to use. We recommend that they pack any medical or beauty essentials that they need with them to help make them feel as comfortable as possible when they arrive, including:
– Medicine
– Soap/shampoo/conditioner
– Make-up/perfume
– Toothbrush/toothpaste/deodorant
– Body lotion/moisturisers
– Shaving equipment/products
– Hairbrush/hair styling products
Furniture and decorations to make their room feel like home
Decor and furniture help to add a personal touch to your space when you move into a care home. Whilst key essentials will be provided by your care home, we've compiled a list of extra decorations that will make the space feel more like home:
– Blanket/quilt/throw
– TV, radio, tablet
– Bookshelf
– Lamps
– Paintings
– Photo albums
– Ornaments
– Books/films/magazines
It's important to check with the care home that you're able to bring personal items and make sure that there aren't any restrictions on what you can safely bring into the care home. Ensure to ask:
– Can you bring your own furniture or personal belongings into the room?
– What items are restricted?
– How will you store valuables?
– Is there a safe, or secure storage in every room?
– Are valuables covered by the home's insurance?
Learn how we care at Borough Care
To find out more about any of our care homes across Stockport and Staffordshire, visit carehome.co.uk for a breakdown of our services, our care and how we can support you and your loved one in this process. We know the process of moving a parent into care can be a confusing, stressful and difficult time, which is why we want to ensure that you feel supported in your decision.
If you'd like to speak directly with our team, or organise a visit to one of our homes, reach out to us at enquiries@boroughcare.org.uk where we'll be happy to help. To see how our residents are living their lives in colour, follow us on Twitter, Facebook, Instagram and LinkedIn.
Not sure which home is right for you?
We're here to help, talk to us.